Project DR650
One of the many things I miss about my XR650L is how easy everything is to access. A lot of thought went into the placement and accessability of things like the battery and airfilter, and nuts, bolts and screws were kept to a minimum, in fact, some quick release fasteners were even used to access the air filter.

I never realized how well planned the XRL was until I bought the DR. For example: Screws hold the DR's side panels on, which conceals the bolts for the seat, which must be removed to access the battery (which is also held in by 2 more bolts). Also behind the left panel is the airbox lid with 4 screws, giving access to the airfilter, held in place by... yes, another screw...
So, finally I got tired of twisting bolts and came up with a quick way to get to the carb, battery, air filter, electrical, etc...

My solution? Hitch pins. I went to the hardware store and got replacement bolts in slightly longer lengths, cut the heads off, drilled holes through them and cut slots in the ends for insertion via screwdriver. For locations where the treaded mounts can be easily accessed from behind (like the side-panel mounts), nuts can be added behind the mount, then tightened once the proper length is adjusted.

The tank bolts are covered by the seat with little tolerance and the pins sit across a slope, so there's no concern for them backing out.



For the seat bolts, I used a chisel inserted at an angle behind the frame, with the bolt in place, to dent the threads and prevent them backing out. If you are more patient than me, the correct way would be to put a nut behind it tightened against the back of the mount.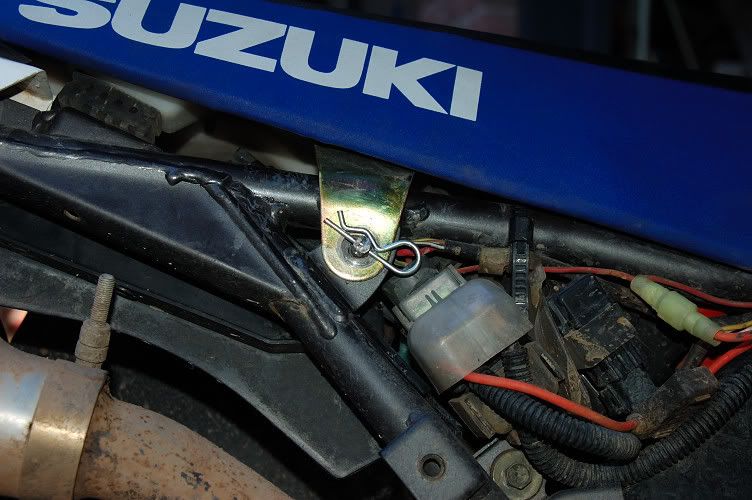 At the time of writing, I haven't done this for the air box, but intend to replace the 4 lid screws as well as the filter screw.













2002 Triumph Daytona 955i